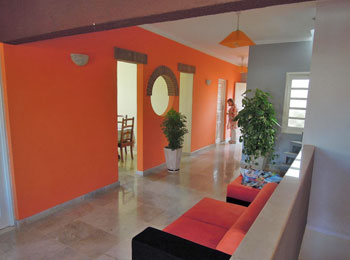 La maison se trouve en haut d'un escalier en tirebouchon au-dessus de l'atelier du bijoutier Yoelsi, fils de la tenancière et mari de Iliana, la fille de Manolo Menendez de casa Mirando al mar de La Boca.
Un vaste plancher qui doit servir de paladar où se trouvent les deux chambres modernes et bien aménagées et full équipées, chacune avec la clim et tout le tralala et de belles salles d'eau modernes. Une troisième, plus neuve se trouve au fond du jardin, plus intime. Repas servis et terrasse sur le toit.

"Très bel accueil de Magali et de son fils.
Belle casa située à distance de marche du centre historique (moins de 10 mn à pied). Chambres très agréables, spacieuses, aérées et d'une très grande propreté (sdb impeccables) et confortables (minibar, clim, grandes fenêtres).

Magaly nous a accueillis avec beaucoup de gentillesse et de professionnalisme et de très bon conseil et sa conversation est très agréable. Elle nous a fait goûter les avocats de son arbre. Excellents petits déjeuners." Gabriel P, Avignon, France 220117


HOSTAL MAGALY
Magaly Pilar Hernandez Santos with her son Yoelsi and his spouse Iliana Menendez

The house is at the top of a corkscrew staircase above the jewellry shop of Yoelsi, son of the proprietress Magaly and hubby of Iliana, daughter of Manolo Menendez of Casa Mirando al Mar in La Boca.

A large floor to serve as a kinda labby where both modern and well-appointed bedrooms, each with air conditioning and all the trimmings.

Roof terrace and a mirador, like a cherry on top.





"Kind, friendly and wonderfully welcoming. Magaly's home is comfortable, very spacious (wth two double beds in each room) and in a great position within walking distance of everything - main square, restaurants, bars, ATM, train station and more. As soon as we walked in Magaly was there smiling and ready to help make our stay as happy as she could. Thank you." Fresci C, tripad visor, sept. 2019